Marine Spatial Planning
It's about where and when activities may occur.
Marine spatial planning is a process for organizing and managing activities that may take place in specific areas of the ocean, such as fishing and shipping, while setting aside other areas for conservation. It's like urban planning, which designates areas for commercial, residential, and recreational use, while maintaining parks, waterways, and other green spaces.
It's about balance.
Put simply, marine spatial planning strives to balance the demands for development and other oceans uses while protecting marine ecosystems.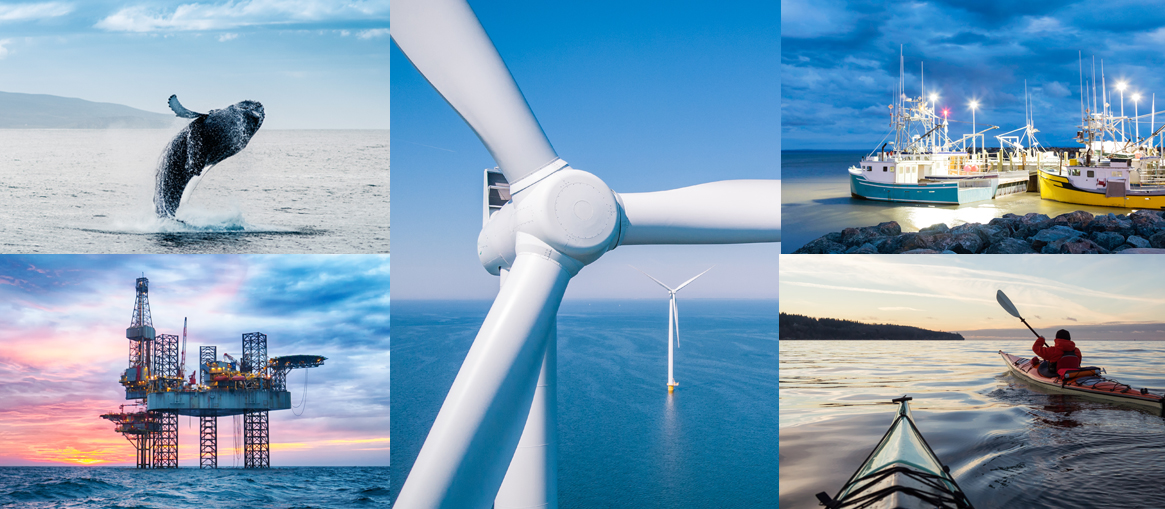 How does marine spatial planning work?
Marine spatial planning is a dynamic process, which results in a marine spatial plan that is regularly updated. It does not replace the planning and management activities of individual industry sectors; rather, it is framework to reflect all marine activities in a single plan and to recommend suitable areas for these activities.
Marine spatial planning begins by bringing together partners to establish goals, objectives and indicators for a specific marine area. For example, the goals of a marine area may be to conserve or protect marine resources, restore degraded areas, and enable the use of marine spaces for economic growth. To realize these goals, objectives may be focussed on:
expanding the network of conservation areas
protecting essential habitat for species at risk
ensuring adequate marine space is available for industries, such as fisheries and offshore energy
Once set, the goals and objectives will guide the overall vision of the marine spatial plan. The goals and objectives will also direct the remaining planning process phases, such as data and knowledge collection, analysis of ocean conditions and marine uses, and the monitoring, evaluation, and enforcement of management measures.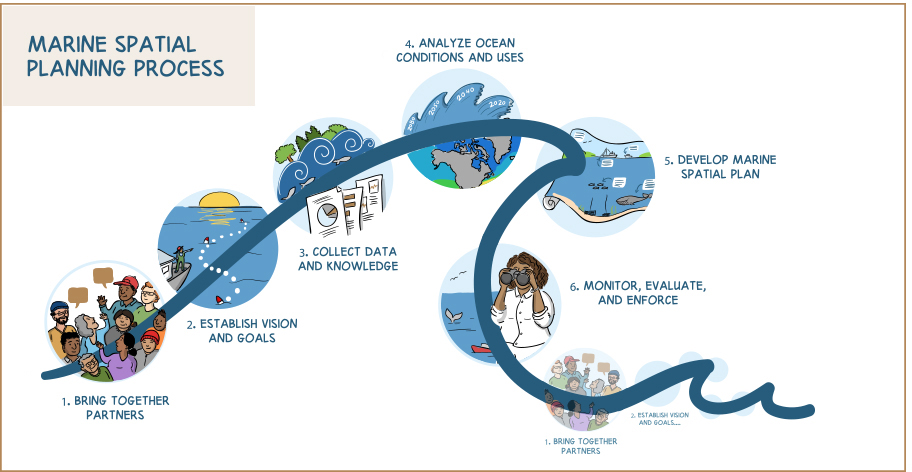 ---

Where is marine spatial planning taking place?
Over the next year, Fisheries and Oceans Canada is focusing its efforts on advancing marine spatial planning in five marine areas:
Salish Sea
Pacific North – Central Coast
Bay of Fundy – Scotian Shelf
Newfoundland–Labrador Shelves
Gulf of St. Lawrence
---

Technical Roles, Tools and Training
Examples of technical roles in marine spatial planning
Marine spatial planning practitioners typically include a multi-disciplinary team of biologists, ecologists, geographers, and economists as well as planners with specific skills, knowledge and experience in areas such as program management, analysis, monitoring and evaluation, and communications/community coordination.
While the technical involvement of Indigenous groups and communities in marine spatial planning may take on many forms, it is envisioned that their roles will span all phases of the planning process. For example:
During the initial planning phase, a community coordinator or communications specialist may:
liaise with one or more Indigenous communities and planning committees to ensure that the planning process is accessible to communities (e.g., location/timing of meetings, language considerations)
organize meetings with community representatives and/or Indigenous groups, including planning agendas and leading discussion items
develop Indigenous-related communications content for all involved planning partners
develop or assist in developing communications products, such as graphics and videos that highlight the Indigenous components of marine spatial planning for use in workshop materials, websites, and social media
During the data and knowledge collection and analysis phases, a marine biologist and/or an Indigenous knowledge coordinator or analyst may:
identify (e.g., through aquatic field work, interviews with Elders, etc.) and map species or marine areas of cultural, ecological, and/or economic importance
liaise with communities and other partners to identify Indigenous knowledge research needs and manage resulting research projects
develop data-sharing protocols
advise and/or identify solutions for the use and storage of Indigenous knowledge
interpret spatial analysis to assess how current, potential and future marine activities may impact marine resource use in traditional territories
During the monitoring, evaluation and enforcement phase, a guardian or stewardship technician may:
monitor activities, take samples, record observations, and collect data at particular marine sites (e.g., protected areas) to study and assess environmental changes
lead and/or partner in restoring cultural and natural resources in traditional territories
---

Examples of marine spatial planning tools
Many marine spatial planning tools coincide with the technical roles described above, but there may also be tools specific to the marine area and/or the technical team activities. For example, to fulfill their duties:
a communications specialist or community coordinator may use word processing and presentation software, WordPress or other website content management systems, graphic design software or personnel, and collaborative project management software such as Microsoft SharePoint Platform
a marine biologist or Indigenous knowledge coordinator/analyst may use geographic information system and data analysis software, such as Marxan or ArcGIS, environmental or biological sampling equipment, such as marine probes or nets, data storage devices, and vessels or other vehicles to access remote locations
a guardian or stewardship technician may use environmental and biological monitoring equipment, mobile tracking devices, and vessels or other vehicles to access remote locations
Technical staff in Indigenous groups or communities may already use some of these tools through their involvement in oceans science and technology (e.g., Oceans Research in Canada Alliance), ocean literacy and education, and other oceans management activities.
---

Examples of marine spatial planning training
There are many environmental and resource management training courses that would prepare monitors, guardians, and stewardship technicians to collect and monitor data relevant to marine spatial planning. For example, the Coastal Stewardship Network develops and delivers custom training programs to stewardship staff, such as applied stewardship skills, compliance and enforcement, and safety policies and procedures.
There are also classroom and online training courses to help marine spatial planning practitioners use geographic information systems and other data mapping technologies. This includes a number of diplomas related to geographic information system applications.
For Indigenous groups and community coordinators, training to work with Elders on Indigenous knowledge gathering may be an additional need. This training could cover, for example, best practices on conducting interviews, interpreting and applying knowledge, and learning by doing.